Definition of Hemiacetal
---
A hemiacetal is a chemical compound that is organic and is formed when the chiral carbon is connected to two atoms of oxygen. One oxygen atom belongs to the alcohol (-OH) function group whereas the other oxygen is of ether (R-O-R). In simple words, the addition of alcohol to aldehyde results in a hemiacetal.

---
Example of Hemiacetal:
An example of the hemiacetal is 1-methoxyethan-1-ol. In this case, every alkyl (R) group is methane, a CH3. This is known to be the simplest of all the hemiacetals.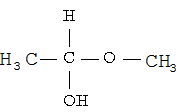 ---
They can be synthesized in several ways which include partial hydrolyzing the acetals, adding the alcohol to the carbonyl carbon of aldehyde by nucleophilic addition, etc.